Fort Branch, The Home of Judge Martin Williams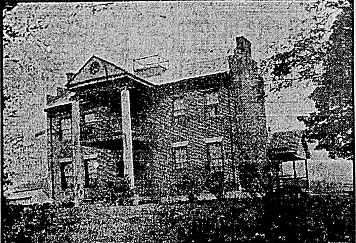 Pearisburg, Va., January 15. – Nestled in a beautiful valley, near Pearisburg, surrounded by green pastures, beautiful orchards and handsome groves of sugar trees, locusts, silver maples and sycamores, overlooked by Angel's Rest and Peter's Mountain; and in full view of the now famous Mountain Lake, is Fort Branch, the splendid old home of the Pendletons, now owned and occupied by Judge Martin Williams. This old home, built by Colonel Albert G. Pendleton, on land owned by the famous Chapman family for almost half a century, is a large and commodious brick building, built from colonial architecture in 1858, at the time of its construction was one of the best residences west of the Alleghany Mountains. Colonel Albert Pendleton, being an Eastern Virginian by birth, moved to Giles County in his early manhood for the purpose of practicing law, and was for a number of years the leading lawyer and politician of this section of Virginia. He married a Miss Chapman, a daughter of General Manneljus Chapman, who was a man of large estate and large financial, social and political influence in his day. After Colonel Pendleton's death this property descended to his daughter, Mrs. Samuel Crockett, of Wythe county, who sold it to E. W. Hale, who, about fifteen years ago, sold it to Judge Williams, who now occupies it as a home, having his office in the town of Pearisburg. Judge Williams is a practical and successful farmer in connection with his law practice, and is now serving his third term in the Virginia Legislature.
The Times Dispatch, Richmond, Va., 16 January 1910.