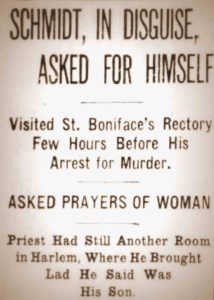 Schmidt, in Disguise, Asked For Himself
Visited St. Boniface's Rectory Few Hours Before His Arrest for Murder.
Asked Prayers of Woman
Priest Had Still Another Room in Harlem, Where He Brought Lad He Said Was His Son.
Father Hans Schmidt, held as a murderer, counterfeiter and manufacturer of illegal medicines, paid a visit to the Church of St. Boniface, at Second avenue and East 47th street, where he was formerly engaged as a curate, a few hours prior to his arrest by Inspector Faurot on the murder charge, Saturday night.
The housekeeper at the rectory, a sister of Father Braun, answered a rind of the door bell early in the evening, to be confronted by a man she is positive was Schmidt. He was dressed in a dark gray suit, without clerical collar or vest. He appeared to be under the influence of liquor, although that might have been assumed, and inquired for Father Schmidt. Father Braun's sister was convinced it was Schmidt inquiring for himself.
Scant attention was paid to the incident, however, until yesterday. Then Father Braun learned from one of his parishioners, a woman, that a man whose description tallied perfectly with that of Father Schmidt, spoke to her on the side-walk beside the parish house Saturday night.
The woman, who lives near the church, was returning to her apartment with her little daughter, when a man descended the steps from the rectory door in East 47th street.
"Are you a poor woman?" she was asked by the man she asserts was Schmidt.
Receiving an affirmative reply, the man reached into a pocket and drew forth a coin, which he gave to the child. Then he leaned forward and peered into the woman's face.
"Do you know me?" he asked.
The woman was startled. The man's features resembled those of Father Schmidt, whom she had known well when he was at St. Boniface's Church, but the absence of clerical attire led her to believe herself mistaken.
"No," she told him.
The man seemed vastly relieved, but repeated the question. Again the woman repeated her denial.
"You go to the church here" indicating St. Boniface's, the man said. "Pray for me when you attend mass in the morning."
Handing the child another coin and remarking that he had enough money "to buy all New York," the man departed.
What Father Schmidt's purpose for visiting the rectory may have been is uncertain. It is held, however, that he may have wanted to learn if any alarm was felt by Father Braun at the disappearance of the Aumuller girl. By inquiring as to the whereabouts of "Father Schmidt" he may have hoped to learn if his name was associated with that of Anna Aumuller.
"Whatever he came for," Father Braun said yesterday, "if, indeed, it was Schmidt, was for some carefully thought out reason. He was a man of great cunning and would not have come here from 125th street for no purpose."
Asked if Father Schmidt had ever stolen funds of the church while an assistant at St. Boniface's, Father Braun said that to his knowledge he had not.
"I have a very thorough, careful system of accounting for the money that is received and disbursed in my parish," he said. "I know about how much money is due every Sunday, and I check up with extreme care. The envelope found in Father Schmidt's effects were given to him by me after the money, several hundred dollars in all, had been extracted, to be checked up. Father Schmidt made a report to me and I do not know why he did not dispose of the envelopes.
Father Schmidt was a generous man, and gave much of his salary in small amounts to the poor of the parish. He was suave and affable and seemed generous and open-hearted always. But there was something about him I mistrusted. I studied him carefully, at odd moments and in various places. I could never fathom the expressions which flitted across his features. I became convinced that he was not sincere in his beliefs. And then, he was prone to abuse my confidence at times, and showed no gratitude for kindly acts others had done to him.
"Never in the twenty-two months he was on my service, however, did he perform an act that led me to believe he was not perfect mentally. His mind was complex – little did I dream to what a fearful extent – but it was as keen as steel."
No further light on Father Schmidt's past life was received from the church authorities in Germany, it was learned from Monsignor LaVelle yesterday. The local church heads refused to discuss the probability of Father Schmidt being the subject of official action by the Catholic Church.
Posing as "Mr. A. Van Dyck" and giving the impression that he was a travelling man who was away from the city at intervals, Schmidt rented a hall bedroom from Mrs. A. M. Mainzer, at No. 124 West 84th street, last January, for $2 a week. During his occupancy of this room he brought into the flat a handsome, healthy looking boy of four or five years, who he said was his child.
Schmidt admitted yesterday that he rented the room from Mrs. Mainzer.
The room in the ground floor flat was rented to Schmidt by Mrs. Mainzer through an advertisement which Schmidt answered. He first appeared at the address wearing black business clothes, about January 4, paid a week's rent and left. At no time did he have any baggage sent to the room.
"The child resembled him very much, and was a fine looking youngster, with red cheeks and of sturdy build."
He told Mrs. Mainzer that the child's name was August Van Dyck and that the lad was his son.
"Schmidt was only in his room a comparatively few number of times, and never slept there," Mrs. Mainzer said, "He would come in during the day, ask for his mail and then go out. He got considerable mail, but I do not remember any of the postmarks."
Schmidt, in Disguise, Asked For Himself, New York Tribune, 19 September, 1913, page 4, column 1.