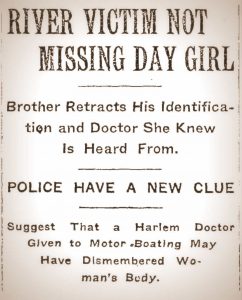 River Victim Not Missing Day Girl 
Brother Retracts His Identification and Doctor She Knew Is Heard From.
Police Have a New Clue
Suggest That a Harlem Doctor Given to Motor Boating May Have Dismembered Woman's Body.
Francis Day of 206 Union Street, Brooklyn, who assured Inspector Faurot on Friday night that he had identified the torso in the Hoboken Morgue as part of the body of his sister, Antoinette Day, signed an affidavit in Hoboken, N. J., yesterday in which he asserted that he had been mistaken. The affidavit denying the torso was that of Antoinette Day was signed also by her mother, Mrs. Marietta Day, and her two sisters, Emma and Mary.
Young Day, with his mother and sisters, called at the morgue yesterday at noon and examined the body. A glance was enough to convince the two young women and their mother that the body was not that of their relative. The murdered woman, they said, had been much heavier and taller than the girl missing from their family.
Dr. Alfred Orrichia, whom detectives were sent out to interview in Brooklyn last night in regard to the Day girl's disappearance, was found yesterday in San Jose, Cal. He denied knowing anything of Miss Day's whereabouts, and said he fled from Brooklyn from fear of the "Black Hand."
Chief of Police Marcy of North Bergen, N. J., said last night that he had spent the day with detectives from New York Police Headquarters searching for evidence against a man who started our from the Harlem River on a week's motor boat cruise on Aug. 27.
"All clues except this one have been eliminated," said Chief Marcy. "I am not in a position to tell the principal grounds of suspicion we have, but we are investigating the actions of a man whose home is in Harlem.
"He is a physician, living a short distance from Sach's furniture store at 147th Street and Eighth Avenue, where the pillow was purchased in which part of the dismembered body was wrapped. Several months ago the same man had a narrow escape from trouble when he and some friends took a motor boat with some young women.
"We believe that the bundles containing parts of the dismembered body were thrown into the river from a motor boat about thirty-five feet long, which had been moored int he Harlem River. After disposing of the body, our information is that the murderer and a man accomplice went up the Hudson in the motor boat, and returned only a day or two ago. There are now in New York City.
"I found to-day on both sides of the Harlem River any number of loose chunks of New York schist like that used to anchor the bundle containing the lower part of the torso. We have evidence that the body, after dismemberment, was carried in two suitcases to the motor boat. For one thing, the fact that the body was cut into so many pieces indicates that the murderer intended to carry it away in parts in a suitcase.
"We have gained no information concerning the murdered woman, and nothing in the investigation we have made of this clue points to the owner of the pillow-slip on which the initial "A" was embroidered."
Chief of Police Wolf and Lieut. McGowan of Yonkers, accompanied by two New York detectives, questioned boatmen along the Hudson at Yonkers yesterday regarding stories that two men with suitcases had hired a motor boat there on or about Aug. 1 and disposed of several large bundles in the Hudson. Chief Wolf refused last night to say whether their investigation had thrown ant light on the murder.
River Victim Not Missing Day Girl, The New York Times, 14 September 1913.