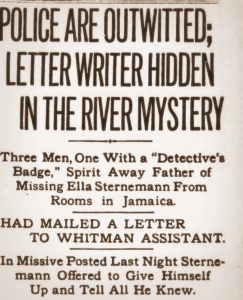 Police are Outwitted; Letter Writer Hidden in the River Mystery
Three Men, One With a "Detective's Badge," Spirit Away Father of Missing Ella Sternemann From Rooms in Jamaica.
Had Mailed a Letter to Whitman Assistant.
In Missive Posted Last Night Sternemann Offered to Give Himself Up and Tell All He Knew.
A small trunk was picked up this afternoon adrift in the Hudson River off Shadyside, where the dismembered body of the girl in the murder mystery was found last Friday. Mary Brann, who first saw the package containing the girl's torso, also discovered the trunk. It was empty, but had red stains on the inside of the bottom.
The eccentric letter writer, Peter H. Sternemann, who became a central figure in the Hudson River mystery through his insistence in letters to the Hoboken authorities and the German Ambassador that the fragments of a murdered woman's body now awaiting identification in Hoboken Morgue are those of his missing daughter Ella, was taken from his residence at No. 113 Globe avenue, Jamaica, early to-day by three men representing themselves as detectives – one displaying a badge – and is now being kept hidden from the police and detectives of the District-Attorney's Office, who are searching for him.
Detective Wood, assigned to aid Assistant District-Attorney Deacon Murphy, and ordered by him to apprehend Sternemann as a material witness, was told by Mrs. Mathilda Weiss, landlady of the house where Sternemann had lived since last Thursday, the three men had awakened Sternemann at 1.30 o'clock this morning; that one of them displayed a shield and said he was a detective and that they then took Sternemann away with them.
Neither Brooklyn nor Manhattan Headquarters knew anything about the apprehension of the eccentric milliner, and inquiry from Hoboken and Weehawken Police Headquarters developed the fact that they, too, were ignorant of the coup arranged in the dark hours of morning.
While Murphy was trying to discover who it was that had outwitted his detective he received two further communications from the much-sought father of the missing Ella Sternemann – a brief post card and a long and semi-incoherent letter, both mailed from upper Manhattan last night.
The postcard merely said, "While I am sitting here munching my doughnuts and coffee I might as well drop you a line." The letter, mailed at Station R at 10 o'clock last night, bore a special delivery stamp.
The letter, which was scrawled over many pages of paper, seemed to convey the assurance that any time Murphy wanted the writer he would come to the District-Attorney's Office and tell all he knew about his missing daughter.
F. H. Horwitz, a druggist at Eighth avenue and One Hundred and Forty-seventh street, across the street from the furniture store of George Sachs, where the pillow cases in which the severed fragments of the woman's body were stuffed are known to have been obtained, told the police to-day that ten days ago he sold two sheets of the heavy tar paper similar to that bound about the remains to a man in his shirt sleeves who ran in hurriedly and asked for heavy wrapping paper of that quality. Horwitz believes the purchaser was a resident in their neighborhood.
Simultaneously with the news that Sternemann was under apprehension, Detectives Charlock and Bennett of the Hudson County, N. J. Prosecutor's office appeared at Police Headquarters and had a long … Faurot, who later carried a message from them to Commissioner Waldo.
Many Bound Bibles Among Sternemann's Crates.
The jumbled furniture and crates of milliner's feathers and artificial flowers standing in the two rooms occupied by Sternemann in the same position in which they were dumped when movers delivered them on Thursday in a wagon marked "Berg," yielded contents to investigators to-day which threw added light upon the disordered mental activities of Sternemann and something of his past life. A multiplicity of Bibles and sections of Holy Write bound separately, coupled with a curiously worded dedication of one of the Bibles to his now missing daughter Ella, seemed to indicate that Sternemann's mind had a strong leaning toward a religious mania.
Sternemann had hired two rooms from Mrs. Mathilda Weiss, a widow. He slept in the front room amid the boxes and baled of his disordered possessions on a pallet a few inches about the floor. The bed he had brought had not been unpacked. On Friday night, after returning late, he was heard by his landlady moving about the rear room, and to-day it was discovered that a kitchen table, which had been unpainted when it arrived, had been painted with a fresh coat of white. The report that brown stains on the under side of the table had been found and were taken as significant by the detectives was discovered to be unverified. There were no stains of any kind on any portion of the table.
Had Copy of Paper Telling of Finds in River.
On top of the table lay a clothesline, still wrapped as it came from the store; a sharp bread knife, an old and very dull hatchet and a copy of an evening paper of the date September 6, opened up to the headlines telling about the finding of the first portion of the two fragments of a woman's body now lying in the Morgue in Hoboken. Many skeins of milliner's wire, such as that which bound the portions of the body found in the Hudson save that the thread covering was black instead of white, were among the man's effects.
Perhaps the most interesting exhibit in all the weird collection of junk was the inscription and dedication written on the flyleaf of a New Testament and Book of Psalms which had evidently been the property of the missing Ella. For one thing, this inscription showed that Sternemann has been using only a portion of his name in this country and that "Sternemann von Gonten" is his whole patronymic.
Inscription Written by the Girl's Father.
The inscription, written in English and in a crabbed hand, reads:
"Do right. Be firm when so you do and have faith in God. To my beloved daughter, Miss Ella Sternemann von Gonten, in remembrance of her illustrious Ma, Caroline Susanne St. v Gonten, who departed this life 2 April, 1891, N. Y. City. Of your loving and afflicted Pa, P. H. (Suffering) Sternemann."
Below this strange dedication was written, as if a part of it, these lines:
"I've been an altar boy and did not thing when at the age of seven I was to meet in life so many unchristian. But, dear, you must now learn to fight for existence. Be an American. Most foreigners are. I spent all I had to safe Mama Lina (presumably Sternemann's dead wife) but it should not be. His, God's will be done and not ours."
On the fly-leaf of another Bible was this random note: "I gave Lena 27 cents to-day."
Through all the pages of the holy books were notes in German and English, some intelligible, some in senseless gibberish. One scrawl read: "Emily is in Kings Park Asylum."
This evidently referred to his second daughter, Emily, who is said to have attempted suicide a few months ago when she lived with her father on Olive street, Brooklyn, and was taken to an asylum.
A policy book of the Prudential Life Assurance Company – such a policy as is held by paying five cents a week, the benefit being $100 – was among the effects. It was upon the life of Emily Sternemann von Gonten and was drawn by S. Goset, agent, at No. 698 Spring street, West Hoboken.
Stories Told About the Sternemann Girl.
The injection of the figure of Sternemann, who seems to have been a roofer and a milliner by turns, into the intricacies of the murder mystery, and his insistence through four incoherent letters sent to various officials, including the German Ambassador at Washington, that his daughter Ella was the murdered girl, has brought report of the missing daughter from half a dozen different sources. These cover a range of more than five years and carry down to a period as recent as eighteen months ago.
Here is a chronological compendium of the information so far gleaned concerning the movements of the missing girl:
Detective Bernard A. Ditsch of the East Fifty-first street station, who says he has known Sternemann and his family for fifteen years, declares that Ella has been missing for more than five years and he believes she is dead.
Mrs. Amelia Shaefer, a costumer at No. 2245 Third avenue, says she took Emma Sternemann in to live with her and work in her shop five years ago, "because the poor girl needed a home." Ella, who seemed to be in fear of her father, disappeared from Mrs. Shaefer's home after living their eighteen months, withdrawing a small savings deposit in the Harlem Savings Bank.
Weighed 100 Pounds Five Years Ago.
The girl went, as Mrs. Shaefer believed at the time, to live with relatives near the Lutheran Cemetery in Middle Village, L. I. She was " a little thing, weighing not more than one hundred pounds" at the time she lived with Mrs. Shaefer.
Dr. William Mosier, who lives at Third avenue and Eighty-nine street, says he rented rooms to Sternemann and his daughter Ella about three years ago, but because of his eccentricities Sternemann was soon notified to vacate. Dr. Mosier, whose name was one of the many mentioned in Sternemann's incoherent letters, described Ella as weighing not more than one hundred pounds at the time he knew her.
….., a theatrical costumer at No … Third avenue, says his nieces knew Ella Sternemann two years ago and that Ella used to call at the store to see them. She soon dropped out of their sight.
On April 25, …, Peter Sternemann called at The World office and asked the paper to help him find his daughter Ella, who had disappeared from a place where she was employed in Jersey City. A palmist had told him, Sternemann said, that his daughter had been injured and was in a hospital somewhere.
T. C. Smedly, a photographer at No. 202 Bowery, says that eighteen months ago a girl who gave her name as Ella Sternemann and who appeared to be very nervous and excitable called at his gallery and sat for her picture.
Sister of Ella Sternemann Tried to Kill Herself.
William Mayer of No, 27 Olive street, Brooklyn, says that for nine months prior to last Thursday Sternemann and a daughter, Emily, had lived in a house in the rear of that address. No daughter Ella was with them during their residence there. Emily Sternemann tried to kill herself by jumping from a second-story window three months ago, and she was taken to an asylum, Mayer believes. Emily used to allude to her sister Ella, who was working somewhere in New Jersey, and she often spoke of Ella in a worried manner.
Mayer put Sternemann out last week because he was behind with his rent, business had been bad lately, Sternemann told his landlord. The neighbors regarded the feather maker as a harmless cranky man. He has nothing to say to any of them and talked loudly and sometimes violently to himself as he was going to bed or getting up in the morning. He usually went out a few minutes later. He rose and left the house every morning about 5 o'clock. The neighbors are positive that no woman has visited the house since Emily was taken to the asylum.
Mrs. Mathilda Weiss of No, 212 Globe avenue, Jamaica, rented a room to Peter Sternemann ten days ago and he took up residence there last Thursday. He went alone. Mrs. Weiss did not know that her lodger had any daughters.
Told Strange Stories About His Daughter.
During all these years, both at the times Sternemann knew where his daughter Ella was and at the other times when she seems to have disappeared, he was constantly telling acquaintances strange stories of his his daughter had been murdered. Detective Ditsch is authority for the statement that whenever any unidentified woman's body was found in the vicinity of New York Sternemann instantly jumped to the conclusion that it was that of the missing Ella, though he never made any attempt to identify the several bodies.
Soon after Sternemann took charge of his rooms, according to Mrs. Weiss, he said:
"I have moved from Myrtle avenue. My enemies are after me. If any one comes here for me, say I don't live here."
As soon as he read in the newspapers of the finding of the first part of the torso he said to Mrs. Weiss:
"That is my daughter."
He seemed certain of what he said, but made no explanation, nor did it seem to affect him in the least. By that time his eccentricities had made such an impression on Mrs. Weiss that she paid little attention to his assertion that the body was that of his daughter.
Washed Coat, Vest and Trousers, says Landlady.
On Sunder he washed one of his coats, his vest, a pair of trousers, an outer shirt, an undershirt, and a burlap bag. He hung most of these out himself to dry. Mrs. Weiss wondered at the time about the trousers. She says the ones he washed were torn and worn, but that there were several pairs of good trousers thrown about the floor of his room. She is wondering yet why he picked out the ragged ones to wash. Yesterday for some reason, he washed out some of his stock of white feathers and him them on a chair to dry.
Murder Committed Near Where Pillow was Sold.
But as far as they have gone the detectives are working on the theory that the murder was committed in the vicinity of One Hundred ad Forty-sixth street and Eight avenue, because it was in that neighborhood the only two pillows like the one wrapped about part of the victim's body in New York City were disposed of.
A search in launches has been made of both shores of the Hudson, but no trace of the head and limbs of the murder victim has been found. The body of a prematurely born child was found floating near where part of the torso was found last Friday, but there was nothing to connect it with the murder.
Inspector Faurot's men are working in squads. One is searching for a boat with stains such as the boat used by the murderer may contain, and for the missing portions of the body.
A second squad is investigating the list of girls and women who have been reported missing recently, In this connection Mrs. Mary Spillane, of No, 210 East One Hundred and First street, will go to the morgue in Hoboken to-day to see if she can identify the torso of the murder victim as that of her sister, Kitty Shea, who disappeared more than a week ago from Larchmont after having been in this country only four months.
Another Girl Mentioned as Possible Victim.
Last Tuesday Mrs. Spillane received a postal card saying Kitty had been hurt by a fall from a car and was in a hospital. The girl was a domestic in a Larchmont home, and on investigation Mrs. Spillane learned that she had left Larchmont the week before. She has been unable to learn of any accident, and has not been able to get a trace of the girl since she left Larchmont. Detectives assigned to the case say they ascertained Kitty was soon to become a mother, but they have found no trace of her.
Police are Outwitted; Letter Writer Hidden in the River Mystery, The Evening World, 9 September 1913, page 1, column 5, and page 2, column 1.