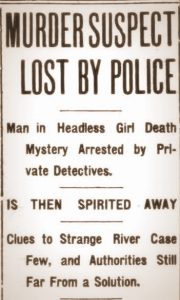 MURDER SUSPECT LOST BY POLICE
Man in Headless Girl Death Mystery Arrested by Private Detectives.
IS THEN SPIRITED AWAY
Clues to Strange River Case Few, and Authorities Still Far From a Solution.
NEW YORK, Sept. 9 – With Peter S. Sternemann, aged eccentric man. who has written letters declaring that the headless body found in the Hudson river was that of his daughter, arrested by private detectives and spirited away, the New York police were this afternoon as far from a solution of the mysterious murder as they were a few hours after the portion of the young woman's body was dragged from the river.
Arrested For a Paper.
The men who took Sternemann into custody were supposed to be detectives representing a New York newspaper. The police knew nothing of the arrest, and their chief concern now is to find Sternemann and learn more of the facts, which his letters indicate point to the murder victim being his daughter Ella.
Differences In Weight
The police now believe that the young woman was cut to pieces while still alive somewhere in the vicinity of 2763 Eight avenue, in a hallway. It was discovered that George Sacks, a second-hand dealer at that address, had in stock the only pillows in New York  bearing the mark of the manufacturer found upon that in which the torso of the young woman was wrapped. Sacks had but twelve of the pillows. He remembered selling one to a stout, middle-aged woman last April. He had no record of the sale of the only other pillow which is missing, as he still has ten of them.
With the finding of the second portion of the body, which was wrapped in a pillow slip of fine linen and embroidered and initialed, and the discovery that the dismembering of the body had been expertly done, the police believe the murder had been committed in some private home.
Murder Suspect Lost by Police, The Washington Times, 9 September 1913, page 1, column 4.