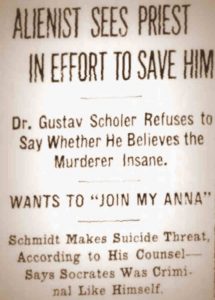 Alienist Sees Priest in Effort to Save Him
Dr. Gustav Scholer Refuses to Say Whether He Believes the Murderer Insane.
Whats to "Join My Anna"
Schmidt Makes Suicide Threat, According to His Counsel – Says Socrates Was Criminal Like Himself.
The first definite move to save Hans Schmidt, the slayer of Anna Aumuller, from the electric chair was made yesterday by his counsel, Alphonse G. Koelble, who caused the priest to be examined as to his sanity by Dr. Gustav Scholer.
Dr. Scholer, who is a member of the Board of Managers of the State Hospital for the Insane, on Ward's Island, and an examiner in lunacy, said in answer to a question at the close of the examination:
"I cannot conscientiously say that the priest is insane. There were times in the hour and a half that I examined him when he appeared to be mentally unbalanced, and then there were times when he seemed to be sane."
"Did you think he was shamming insanity?" he was asked.
"I will have to make a much more thorough examination of the man before I will say that he is sane or insane," replied Dr. Scholer.
Koelble, however, said he was convinced the priest was insane, and yesterday he asked the prison keepers to keep a watch on the prisoner to prevent him from committing suicide.
The lawyer said he thought it necessary that he should remain outside the counsel room while the priest was being examined, to be within easy reach in case the priest should make any attempt on the physician's life.
"His contempt for human life amazes me," said Koelble, "and I didn't want to take any chances."
Intimation of Suicide.
Koelble said he believed the priest made a threat to take his life yesterday just before Dr. Scholer examined him.
"The sooner I join my God and my Anna the better it will be for me," was the statement of the priest's that alarmed his counsel.
Throughout the examination, which was made in the counsel room in the Tombs, the priest resented, according to the lawyer and the alienist, any questions that sought to bring to light any abnormalities in his family history.
The priest, still scorning to wear an outer shirt, coat or collar, and with his face covered with a week's growth of beard, likened himself to Socrates. He said the philosopher's crimes, with the exception of murder, were similar to those he (Schmidt) committed, and that if he was degenerate Socrates was degenerate also. The Greeks thought Socrates crazy, the priest said.
"But a thousand years later the world realized the greatness of Socrates and later on it will realize the greatness in me," the priest added.
Koelble introduced the alienist to the priest as a friend and did not tell him he was an alienist until near the end of the examination.
"I did that," Koelble explained, "because I feared to anger him. He insisted he was insane. He insisted he was sane, and when Dr. Scholer asked him what the authorities said in Munich, referring to the time he was freed on criminal charges, because they believed him weak minded, he said:
"Oh, they said things about me that were untrue. They imagined things." When the doctor asked him about going to a sanatorium, all he would say was: "Oh, I just went to the sanatorium."
Dr. Scholer said he talked to the priest mainly about his family and the people he knew in Mainz and Munich. He found the priest knew persons in both cities whom the doctor met on a recent trip abroad.
The priest, Dr. Scholer said, was thoroughly exhausted mentally and physically and his heart was weak.
Talks of His Strange Nature.
"Father Schmidt," said Dr. Scholer, "almost at the outset talked about the three kinds of men that he said were represented in him – the money maker, the priest and the physician. He became angry when I advanced a theory as to his sanity. He admitted that he did many things that were wrong."
According to Koelble, when Dr. Scholer asked the priest about the four suicides and efforts to commit suicide in his family in the last five years, the priest replied:
"That is no reason why they should be called insane. Perhaps they are right and the rest of the world who hold contrary opinions are wrong."
Dr. Scholer said he asked Schmidt to recall all the events in his life from the age of nine or ten to the present time, so that he would be able to give him a history of himself when he examined him again. Just when this will be has not been decided. Dr. Scholer made no charge for his examination, by reason of his friendship for Koelble, who is seeking another alienist of a charitable turn of mind.
Dr. Scholer for three years was a Coroner's physician, and for four years was a Coroner, preceding Julisu Harburger, now Sheriff. For the past eight years he has been the neurologist at the Washington Heights Hospital.
Last night Inspector Faurot said his detectives had found out a little in regard to the life of Schmidt's counterfeiting accomplice, "Dr." Ernest A. Muret, or Herman Arthur Heibing. Faurot said Muret, or Heibing, was employed as an assistant dentist by Dr. A. M. Stewart, of No. 207 East 34th street, on July 21, 1911, but was discharged a week later as an impostor. Muret had a room in the house, and two days later he was found there unconscious by Dr. Stewart. He was taken to Bellevue Hospital suffering from concussion of the brain. Muret said he fell against the knob of a door.
The following month Muret occupied a room in the house of a Mrs. Moore, at No. 127 West 97th street. He worked for his brother in Staten Island and as a bookkeeper. This work lasted less than a month, and when he lost his job he went to live at the home of Mrs. Matherson, at No. 93 West 163d street, where he hung out a dentist's sign.
Criminal Record in Hamburg.
From the "Deutsches Fahndungblatt," a departmental publication of the German police, Faurot said he obtained Muret's, or Heibing's, criminal record. The first entry was dated November 5, 1909, and reads:
"Heibing – A warrant has been issued charging fraud for the arrest of Herman Arthur Heibing, born February 7, 1884, at Nakel, Province of Pozen. He was lately in Schoenberg, near Hamburg. His crime was committed October 29, 1909. He is 6 feet in height, well built, has black hair, blue eyes, blond eyebrows, teeth good, complexion healthy. Warrant issued October 30, 1909, by First Assistant District Attorney of Land Court No. 2."
The second entry, following, was undated, and read:
"Heibing, Herman Arthur, alias Dr. Muret" (then pedigree follows, as above) "charged with swindling in connection with others."
Muret, or Heibing, in his statement to Inspector Faurot admitted that he was in Hamburg from 1904 to 1908, and reluctantly said he worked as a drygoods clerk and a clerk in an export house.
He also admitted, according to Faurot, that he used at least two aliases, one that of "Dr. Ernst," in Hugo's language school, in London, and that of "Dr. A. Held," while practicing medicine in Chicago.
Muret, or Heibing, while in Chicago was sworn in as a notary public and wrote to notaries in England and Germany, saying he was willing to accept work calling for a notary's seal, and would do the work at a "reasonable" cost.
Muret again denied yesterday that his right name was Heibing, and while he admitted that he lived at No. 207 East 34th street, he denied that he ever worked there. He went to the Protestant chapel in the Tombs yesterday and joined in the singing of the hymns. The Rev. George Saunderson preached on the Ninth Commandment.
Muret seemed to be greatly pleased over the interest he aroused in the other prisoners, who thronged the chapel until fifty or more stood in the aisles.
The Catholic chapel also was crowded. But there the worshipers failed to see Father Schmidt, who kept to his cell, reading accounts of his crimes in the newspapers.
A request for an interview yesterday brought from Schmidt, as on Saturday, a pleas to be excused, as he was "not physically fit to talk to any one."
Alienist Sees Priest in Effort to Save Him, The Tribune, 22 September 1913, page 14, column 1.