In my rush to enter the exciting details of the latest document find I almost missed the most important part. It happens to us all at one time or another and if it hasn't happened to you it may be that you just don't realize it yet.

The record was the 4th and Final Guardian Account for James Garrett. It was the word "Final" that first caught my eye. To my knowledge, James was born circa 1834, but this "final" account was dated 21 March 1848, well before he would reach the age of majority and no longer need a guardian to manage his property.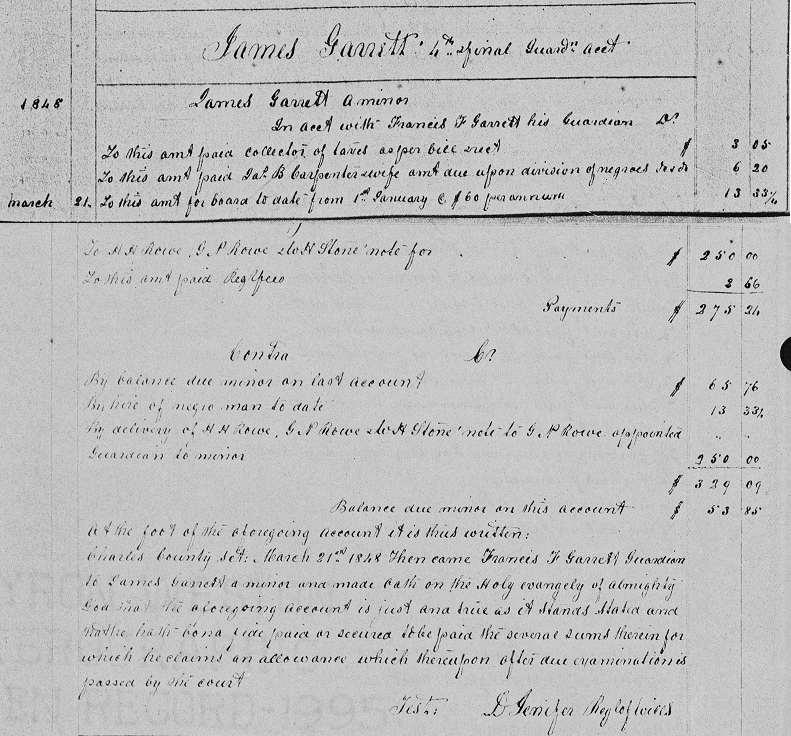 Charles County, Maryland, Guardian Accounts 1847-1860, pp. 59-60, Hall of Records, Annapolis, Maryland.
James was under the guardianship of his older brother, Francis F. Garrett, and I knew he hadn't died, so had the brothers had a falling out? There are later guardianship accounts filed for James by his new guardian, George N. Rowe, but I have not yet found the cause of the change.
Apart from the tantalizing use of the word "final" the guardian account was a little dry; the taxes were paid, along with board and registrars fees, income was received for the hire of an unnamed enslaved man, a promissory note was issued to the new guardian and a payment was made to Jas. B. Carpenter for the division of negroes.
Francis F. Garrett had married Lavinia Carpenter and his sister Etheldra Garrett had married William B. Carpenter, so it wasn't surprising to see a Carpenter mentioned as receiving payment for dividing the estate as the families were close neighbors. But James B. Carpenter was the brother of Lavinia and William, it seemed a little too close to be impartial so I read the entry again.
"To this amt paid Jas. B Carpenter & wife amt due upon division of negroes… $6.20"
This wasn't a payment for dividing the estate, it was a payment as part of the division of the estate! But why was it paid to James B. Carpenter and who was his wife?
The answer was quite easy to find once I had noticed the clue.
Estate Distribution
On 16 May 1844, the estate of Middleton Garrett was divided between his four children: Etheldra, Francis, James, and Virginia.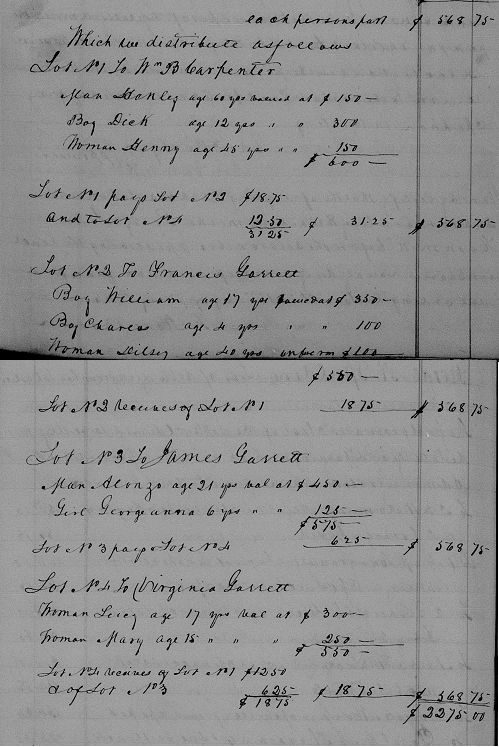 Charles County, Maryland, Inventories 1844-1846, pp. 67-68, Hall of Records, Annapolis, Maryland.
As often happened when an estate was divided without a sale, the lots had to be evened up by means of payments from one to another. In this instance, each child was to receive a legacy worth $568.75 and in order for that to happen some money also had to change hands. Lot No 1 was worth the most and so William B. Carpenter (for his wife, Etheldra) had to pay $18.75 to Francis Garrett who received Lot No 2, and $12.50 to Virginia Garrett who received Lot No 4. James Garrett received Lot 3 and had to pay $6.25 to Virginia Garrett.
"Lot No 3 pays Lot No 4. $6.25"
I now have a working theory: at some time between 16 May 1844 and 21 March 1848 Virginia Garrett married James B. Carpenter and her brother still owes her 5 cents.