Find Third Flat Hired by Schmidt
Had Begun to Move Crime Evidence – Quit When Girl's Body Was Discovered.
Love Letter to the Priest
Also, "Dr." Muret's Note for $300 Found at Counterfeiting Plant – "Dentist" Exposed.
Wanted by London Police
Documents Show Him with Many Names and Roles, Once in Mainz, Where Schmidt Lived.
Detectives under Inspector Faurot broke into a flat at 2562 Eighth Avenue yesterday afternoon where Hans Schmidt, the priest at St. Joseph's Church in West 125th Street, had intended to hide the belongings of Anna Aumueller and other evidence that might lead to his detection as the murderer.
The detectives also found in the effects of Ernest Arthur Muret, who called himself a dentist, and is charged with partnership with the priest in a counterfeiting plant at 516 West 134th Street, a number of letters which proved that early in 1911 he had fled to this country from London where he was wanted by Scotland Yard men and that he had since 1911 assumed at least four different names.
A letter from a woman to the priest saying that she could not live without him, was found yesterday afternoon when Detectives Mulligan and Healy opened a small safe in Muret's office at 301 St. Nicholas Avenue, after working for several hours on the combination.
The letter, which was undated, was full of endearing expressions. The signature was "Helen," and this was followed by her telephone number.
The telephone number was found to be that of Hillel Hall at 201 West 109th Street, Detectives learned there last night that apartment 12, which had been named in the letter, had been occupied by a Helen Green, who had left a month ago for Chicago. Inspector Faurot telegraphed last night to Chicago to see if more could be learned about the woman.
Muret's Note to Schmidt.
Several other papers belonging to Schmidt were found in Muret's safe. One was a promissory note given by Muret to Schmidt for $300 in April, 1912.
One was a copy of a letter sent by Schmidt to a priest in South Dakota, asking for a position there. Schmidt wrote:
"Try to do something for me. There are great temptations here that a man has to contend with."
Among other things in the safe the police found a receptacle for holy oil, a book on the Confession and one on the Mass.
Letters were found written to "A. Van Dyke," a name which the priest had assumed, and which was found sewed in the coat he left in the apartment on Bradhurst Avenue after the murder. They were addressed to 124 West Eighty-fourth Street, where the detectives learned last night that the priest had had an apartment on the ground floor. The woman in charge of the premises was out of town last night, and the detectives could only learn that the tenant who had gone by the name of Van Dyke had left some time ago.
In the safe was also found a copy of a letter which Muret had written on Sept. 14 to a very prominent man in this city. The detectives refused to give out the letter, but said it was an attempt to set up an alibi and showed that Muret anticipated arrest as an accomplice of Schmidt.
Inspector Faurot announced last night that the arrest would take place shortly of another man charged with being a confederate of the priest and Muret. He also said that his men were searching for a woman in the same case.
Schmidt engaged the apartment on Eighth Avenue on Sept. 5 and left there that night a suitcase and a small wicker basket, which were filled chiefly with clothes of Anna Aumueller, including baby clothes on which she was working. The day following, news was published of the finding of part of the torso of the murdered woman in the North River at Woodcliffe, N. J. After that Schmidt never returned to the Eighth Avenue apartment.
All His Apartments "At Present."
A note was sent to Schmidt in his cell in the Tombs last night asking him if Muret had any part in engaging the apartment and if he (Schmidt) had any other apartments undiscovered by the police. The places known to have been rented by Schmidt now number three: they are 68 Bradhurst Avenue, where he murdered and dismembered the woman; at 516 West 134th Street, where he ha set up the counterfeiting plant, and the newly discovered place on Eighth Avenue.
Schmidt wrote this reply:
"I alone rented that flat in Eighth Avenue. Muret was not associated with me in that.

There are no other flats of mine at present. I used to have a furnished room with Anna. But this is long ago.

Hans Schmidt.
When asked what he had rented the apartment for, Schmidt wrote, "It was a storeroom."
A knitted infant's undershirt was found in one of the suitcases with materials cut out and ready to be sewed into infant's dresses. There was a strip of white cloth on which a tow of small "A's" was machine embroidered in red, intended to be sewed on garments for identification. This was in an embroidery box with an embroidery hoop of wood. In the hamper was a quantity of lavender cloth which, to all appearances, was to be made into a woman's dress. Under the cloth was a number of clippings from "Apartments to Let" columns of German papers and a photograph of Schmidt wearing a beard and in layman's garb, taken by a photographer in Munich. On the bottom f the hamper were text-books in German and English which the young woman had been using to better her knowledge of English.
The night before Schmidt engaged the apartment he had scrubbed the floor of the place on Bradhurst Avenue and had burned the stained mattress. His efforts to destroy evidence ceased, however, in Sept. 6, when the first stories of the crime were printed. After that date Schmidt went neither to the apartment on Bradhurst Avenue nor to the one on Eighth Avenue.
Schmidt Traced By Pictures.
The discovery of the third apartment of Schmidt's was made through Miss Frances Blewett, daughter of Policeman George A. Blewett, who lives in the same building. Mrs. Dowd, the superintendent of the building, told Miss Blewett that on Sept. 5 she had rented a five-room apartment on the fourth floor to a man who looked like the pictures of Schmidt. Miss Blewett told her father who notified Detective Brawley of Lieut. Costigan's Strong-Arm Squad. When Inspector Faurot was notified yesterday he ordered the raid.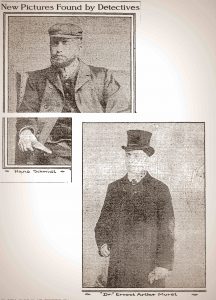 The finding of the third apartment strengthened Inspector Faurot's conviction that Schmidt was a sane and unusually cunning criminal. Schmidt failed to mention this apartment in his confession. Inspector Faurot believes, because he realized that the caution and foresight shown in his attempt to hide incriminating evidence would be inconsistent with the irrational style of conversation which he had used since his arrest.
Inspector Faurot examined yesterday a number of letters which were unearthed in Muret's apartment at 301 St. Nicholas Avenue by Detectives Muligan and Haley of the West Sixty-eighth Street Station. It was these which portrayed the pseudo-dentist fleeing from Scotland Yard and assuming false names. Further proof that Muret had at some time been desirous of changing his identity was found in a false mustache and Van Dyke beard, both of an auburn color, which were hidden in his apartment.
The most interesting letters were from a woman who signed herself "Your Wife, Vera Harris." The first was written in May, 1911, and was addressed to "Ernest Muret, General Delivery, General Post Office, New York City, U. S. A." The address of the writer was "Vera Harris, 13 First Street, corner of Walton, Brompton Road, Chelsea, London." After saying she was pleased to hear from Muret now that he was in America and safe at last, she continues:
But oh, my sweetheart, do not be afraid to come back on account of the detectives. They will not know you because, darling, you remember once you had a man patient come to you in Gloucester, because that man, dear, was a detective. He was the one who got you into trouble, because he told mamma all this. He wanted a photograph of you. Of course we did not give him one. Mamma said there was none. He wanted to know how you looked, Mamma, of course, told him that you were rather short and just the opposite of what you really are.

Now, you see, you wear spectacles and all that. The thought that you may not come to me is driving me mad. I would not tell you to come, of course, if it wasn't all right. If anything happened between you and me it would kill me.
Again Sought by Detectives.
Muret is address as "My Own Dear Lulu," in another letter which was found without the envelope. One of its passages was:
Now I must tell you all the trouble we were in when you left that Saturday. At 2 o'clock in the afternoon a detective came for you. We gave him your message, that you had gone to France. He said you had not left London, and told me to tell you that you would only be fined five pounds. He went away but came back with more of them and they searched the place up and down. And, oh, your certificates and medals; they have taken them all. I know you will be so sorry. The case was in several papers.
In another place the writer says that she is threatened with consumption and begs Muret to take her over to America with him.
Inspector Faurot had no time yesterday to examine the letters at length, but he gave out the various names and addresses on the envelopes, showing how frequently the pseudo-dentist had altered his name and place of residence.
On June 7, 1909, a letter reached him at Hamburg, addressed to "Herr Dr. A. Held, Grindelailie's." On the corner of the envelope was the name of the sender, "G. Lens, Mannheim, Germany."
He was called "Dr. Ernest" in a letter which was sent to him on Dec. 23, 1910 at Preston, England. Another letter that reached him in the same month was addressed to "Dr. Ernst, Messrs. Hugo's Language Institute, Oxford Street, London, W." A letter which left Munich, Germany, on Dec. 30, in the same year was addressed to "Dr. A. Ernst, 20 Compton Terrace, London."
On an undated letter th address is "Dr. E. Muret, Portland Placem London, W." On Jan. 15, 1911, Muret was "Mr. Ernst, 64-66 Oxford Street, London, W."
A further search of the letter revealed how Muret was the "Herr Dr. A. Held" of Hamburg on June 7, 1909. A certificate was found issued to Dr. Arnold Held by the American College of Mechano-Therapy at Chicago on May 14, 1909. The certificate is signed by W. C. Schulze, M. D.: F. S. Tinthoff, Secretary; K. H. Schmidt, D. M. T.: W. H. Bedmund, M. D., and S. J. Tinthorff, Treasurer.
To the certificate was attached the photograph of Muret. Above this was written:
I, the undersigned, do herewith certify that Dr. Arnold Held is personally known to me to be the person living at 476 North Clark Street, in the City of Chicago, and practicing medicine. Paul Voly, Notary Public, Cook County, Ill.
Muret Once in Mainz.
Inspector Faurot's theory that Muret and Schmidt are kin, probably brothers, was strengthened yesterday by the discovery at Muret's apartment of a photograph of him taken at Mainz, Germany, where Schmidt was a priest. Schmidt admitted that he had known Muret in Germany, an admission which contradicted the story of Muret that he had first seen Schmidt less than a year ago, when the priest came to him for dental treatment.
Schmidt continued yesterday to assert Muret's innocence in regard to both the counterfeiting and the murder. The priest would see no visitors yesterday, but he wrote answers to most of the inquiries set up to him by reporters.
A note was sent up telling him that Heim, a School Inspector at Moenschberg, near Schmidt's native place of Aschaffenburg, had committed suicide and that it was reported that the man who was a friend and regular correspondent of Schmidt, had killed himself on receiving the news of the priest's crime. Schmidt wrote: "I think this is a mistake."
The next question was whether the report was true that he had sold medicine for unlawful purposes to a woman penitent. His answer was:
"I have never sold a thing in the confessional and I never took money from the poor. On the contrary, I gave to the poor freely."
Another note asked it Anna Aumueller knew that he believed in the "blood sacrifice." He replied:
"I told her a few times, but she would not believe me."
Asked if Muret had anything to do with renting the Bradhurts Avenue flat or with the killing of Anna Aumueller, he replied:
"Muret did not have anything to do with that. He did not even know of it. He never saw Anna.
Another note brought the reply:
"Anna knew nothing of my plans to solve the social question by creating money for all the poor people here and abroad."
Federal Warrants for Both.
Warrants for the arrest of Schmidt and Muret for counterfeiting were served yesterday by Capt. J. J. Henry of the New York District of the United States Secret Service, on Warden Fallon of the Tombs. If Muret raises the $5,000 bail on which he is held for keeping a pistol, he will be promptly re-arrested on the heavier charge. Both Muret and Schmidt were questioned at length yesterday by Capt. Henry.
Muret denied knowledge of the counterfeiting plant. Capt. Henry told him that bills in the name of Muret and his alias, George Miller, had been found for every article of the equipment of the plant. Muret's answer was that he had bought these things for Schmidt, but had no idea for hat purpose they would be used. What Muret said he had purchased in ignorance included copper plates, engraving tools, bond paper of which counterfeits were partially made, a specially constructed camera suited for the exact reproduction of minute details, the printing press and various kinds of inks.
Questioned by Assistant District Attorney Murphy, Muret said that he had seen little of Schmidt except that the priest had made a practice for several months of coming to his offices to change his religious garb for the clothes of a layman. Their only tie, he said, was a common interest in fine photography.
Muret was asked about the telephone call with the record of his apartment house showed that he had made to the District Attorney's office on Aug. 11. He said that he had been swindled out of $700 in a real estate deal in New Jersey, and that he wanted Mr. Whitman to help him recover his money.
Muret denied that he was an accomplice in the murder of Anna Aumueller, or that he even knew her. Mr. Murphy did not question him about his telephone call to Schmidt on Sept. 6. Later in the Tombs Muret refused to answer the following question sent up in writing to his cell:
"The record of telephone calls at your apartment house shows that you called up Schmidt on Sept. 6. That was the day on which the papers first printed the news of finding a part of the murdered woman's torso. The record of telephone calls also shows that Aug. 1 was the latest date on which you telephoned to Schmidt previous to Sept. 6. Do you care to explain that peculiar coincidence?"
Schmidt told Capt. Henry and Chief William Flynn of the United States Secret Service that six years ago in Germany he had first conceived the plan of counterfeiting and that he had experimented several times before equipping the present plant.
"I have never made a counterfeit that satisfied me," he said. "The nearest that I ever came to it was in making the plate for the $20 gold certificate that was in my trunk at the rectory. That was imperfect. I hoped, though, soon to bring it to success."
Schmidt described in detail all the efforts he had made to perfect counterfeit plates. He said he had done the etching at the dentist's office as well as at the apartment in 134th Street.
"But Muret had nothing to do with it," he said. "In fact, he warned me not to do it and predicted that I would get into trouble."
Capt. Henry said that Schmidt's talk during a conversation of more than two hours was entirely rational, and that he never lapsed into the manner he has used in the Tombs of claiming inspiration or saintly direction for his acts. Chief William Flynn joined with Capt. Henry in this opinion.
Not a Crazy Man's Plant.
"I have seen crazy men," he said, "who have tried to make counterfeits with pen and ink or a poor set of tools, but I have never known one with the brains to fit up a plant that could turn out high quality imitation money. I have gone over the whole outfit and there is only one flaw in it. The press should have been larger. It makes a 10 by 14 inch impression. That is large enough to print a bill, but a bigger press does better work.
"It seems to be true that no counterfeits were finished at this plant. But it is possible that these men may have been in some other counterfeiting scheme, for they answer the description of the men who have been circulating bad money in Connecticut and Massachusetts. In a few days we are going to bring to New York some of the men who have taken bad bills there, to see if they were passed by Muret or Schmidt.
"I have examined the paper and general type of work that Schmidt's plant could do, and I know that no money turned out by it had been detected and turned over to the Secret Service."
Capt. Henry examined yesterday afternoon the contents of a safety deposit box which Muret had at the Mount Morris Bank Safe Deposit Company, 125th Street and Park Avenue. It contained life and fire insurance policies and correspondence with relatives in Germany which seemed to have no bearing on the case.
Capt. Henry seized at the counterfeiter's flat 100 negatives which had been used in photographing one, five, ten, and twenty dollar bills. Most of the negatives had been scraped, but on some traces remained which showed them to be reproductions of photographs. A book "Morgan's Half-Tone and Photo-Mechanical Processes," was found in the flat. No traces of metals were found, but Schmidt admitted, according to Capt. Henry, that he had experimented in making coins.
A squad of harbor police dragged the river with grappling irons yesterday in the vicinity of 152d Street, where it was reported that a fisherman had hauled a heavy object to the surface, which broke away from the hook leaving a wisp of hair upon it. The fisherman reported that he had hauled up the head of a woman.
District Attorney Whitman, who returned yesterday from his vacation, said that Schmidt's trial for murder would probably take place before Judge Foster in Part V. of General Sessions. Mr. Whitman directed his assistants, Deacon Murphy and James A. Delehanty, to find out from Schmidt's counsel whether the defense of insanity would be made. If so, the District Attorney will have the priest examined so that the prosecution will be in a position to meet this plea.
It was reported yesterday that Schmidt had collected last Easter 200 envelopes containing money offerings and kept them foe his own use; also that he had picked the pocket of a clergyman visiting at the rectory of $400. Schmidt denied both of these charges, and they could not be confirmed at the rectory.
Find Third Flat Hired by Schmidt, The New York Times, 18 September 1913.