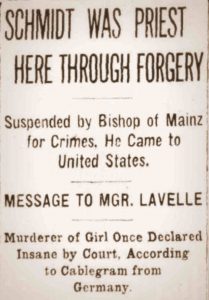 Schmidt Was Priest Here Through Forgery
Suspended by Bishop of Mainz for Crimes. He Came to United States.
Message to Mgr. Lavelle
Murderer of Girl Once Declared Insane by Court, According to Cablegram from Germany.
Hans or John Schmidt, the slayer of Anna Aumuller, is a regularly ordained priest of the Roman Catholic Church, according to a statement made yesterday by Monsignor M. J. Lavelle, rector of St. Patrick's Cathedral. Monsignor Lavelle asserted, however, that there were incidents in Schmidt's past which, if they had been known to the head of the Diocese of New York when the recreant clergyman came to this city from Trenton, N. J., would have barred him from all local churches. In answer to a cable dispatch sent to Germany at the instance of Monsignor Lavelle, the following message was received yesterday afternoon: "Vicar General Mooney, Diocese of New York: J. Schmidt was born at Aschaffenburg. He was a priest of the Diocese of Mainz, ordained in 1907. He ran away from Mainz because of attempted frauds and his arrest by the police. He was declared insane by a court and discharged. He was suspended by the Bishop of Mainz for his acts and for presenting falsified documents regarding the studies he pretended to have made. Then he left the diocese. BENDIX.
"Secretary for the Bishop of Mainz."
It was believed in Germany, according to Church officials here, that when Schmidt was suspended by the Bishop of Mainz, following his arrest for criminal offenses, that his career as a priest was at an end. Schmidt left the country after his exposure, and the German Church authorities didn't know that he came to the United States.
When Schmidt came to New York from Trenton, in 1910, he presented his forged papers at the headquarters of the New York diocese. After their inspection he was assigned to the position of assistant priest at St. Boniface's Church, at Second avenue and 17th street, where there was a vacancy. The congregation of that church is composed of Italians and Germans, as well as American-born Catholics, and the services of two assistant priests, at least, are required by Father Braun, the rector. Schmidt presented to Monsignor Lavelle a document alleged to have been given him by the Bishop of Mainz testifying that his service with the German Church had terminated creditably. Father Mooney, vicar general of the diocese, on receipt of the message from abroad yesterday, sent word to Mainz, asking that all papers and information in possession of the German Church relating to Father Schmidt be forwarded at the earliest moment. The desired documents and facts, it is believed, will be here not later than a week from to-day. According to dispatches by cable, the Mainz "Journal" yesterday said that John Schmidt served in the Mainz diocese, but was under suspension by the Bishop. He disappeared from Mainz, the German newspaper said, and later was arrested at Munich, where he was held for committing a umber of frauds. He was acquitted by the Munich court on the ground of weak-mindedness and then left Germany. The Mainz episcopate, the newspaper said, was not aware that Schmidt was exercising the functions of a priest of the Catholic Church in New York. Schmidt, it was said, studied at the Mainz classical high school and was ordained a priest in 1907. Later he served as a curate at Darmstadt, Seligenstadt, Gnsenheim and Buergl near Offenbach. It was from the last named church that he disappeared when it was found that he obtained his place on forged testimonials.
Schmidt Was Priest Here Through Forgery, The New York Tribune, 16 September 1913, page 2, column 5.