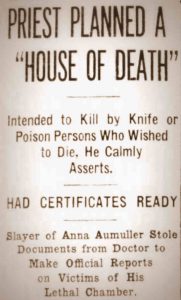 Priest Planned A "House of Death"
Intended to Kill by Knife or Poison Persons Who wished to Die, He Calmly Asserts.
Had Certificates Ready
Slayer of Anna Aumuller Stole Documents from Doctor to Make Official Reports on Victims of His Lethal Chamber.
Hans Schmidt, the Roman Catholic priest who killed Anna Aumuller, yesterday startled the police and his own counsel by saying that it was his intention to found in New York a "lethal chamber" where persons who wished to make an end of themselves could come and be put to death.
The murderer calmly made this admission of his wholesale murder plan when asked in regard to the uses he expected to put the book of Health Department death certificates found in his effects.
There were twenty certificates in the book, which the priest stole from a Harlem physician whose acquaintance he cultivated assiduously. Two were torn out. On one of the stubs was the name of a person. The other stub was blank.
Inspector Faurot last night refused to reveal the name written on the stub, but said he believed it was purely fanciful, and that the certificate was not used for a dead person. Detectives McKenna and Thompson went to the Tombs yesterday afternoon and asked the priest about the death certificates. He told them he confidently expected to find a use for them.
To Use Knife or Poison
In a statement yesterday made through his attorney, Alphonse G. Koelble, Schmidt said he hoped to be able, through euthanasia, to rid the world of cripples, incurable invalids and aged persons who wished to die.
"I had intended to use a sharp knife or poison," the priest said, "preferably a knife, because that would have been far less painful. In my opinion there are many people for whom life is not worth living. I considered I would be performing a good deed in freeing them from a miserable existence."
"Father Schmidt would not tell me how he came in possession of the city death certificates," Koelble asserted.
"How would you have used them if you had carried out your idea?" Koelble asked.
"Oh," was Father Schmidt's reply, "I would have filled in the blanks after the manner of a physician, and signed my name as Dr. Emil Moliere."
Schmidt told Koelble that he did not use any of the death certificates.
Mr. Koelble saw his client in the Tombs late in the afternoon.
"He seemed angry when I talked with him." said Koelble. "For the first time since he has been confined he showed spirit. He told me he was annoyed at the stories springing up all over the world which associated him with other crimes and dragged in the names of innocent people. Once the taint of scandal attaches itself to a man's name it lingers, he said."
Ready to Go to Chair.
"The District Attorney is interested in sending me to the electric chair," Koelble said Schmidt told him. "It would please him, no doubt, to have me go there," the priest added. "It will also please me. I am ready to go at any moment – this minute, in fact, or to-morrow, or next day.
"Why delay and waste all this time through red tape? I have told all I know. I have confessed to everything, haven't I? I have denied nothing. I want to go to the electric chair. I have faced death many times before and I shall face it in the electric chair without quivering in a single muscle. I am ready to die this minute.
"I am sorry for any man who thinks this life on earth is worth living. It is only a step to a better and larger life, and I would be a fool to want to linger here. Many people feel that way. I realized it, and that was why I prepared to kill the paralytics, invalids and other who were weary of existence.
"I do not like to answer the questions of the newspaper men or the District Attorney. They ask why I did these things, and if I told them they could not understand. For the last time I say that I know nothing about any one else. I am responsible for everything. I do not want the names of any one else mentioned, for I alone am responsible for their trouble. And I am ready to die. Death is only a step to another life and I am not afraid, because I did what I considered to be my duty."
Father Schmidt was silent yesterday on the question of the identity of the child he once took to an apartment he rented but seldom used at No. 124 West 54th street.
"Yes. I took a lad there," he said. "He was not my son. I know who he is, but I won't say anything about him. Why drag in the name of his parents where there is no use?"
Says I.O.U. is Wrong.
"I do not care to say anything more about Muret, either. He is not my brother: he is not my cousin: he is of no blood relation to me. I have known him exactly ten months, and any paper that exists that states we have been acquainted for a longer period is a mistake. The I.O.U. found by the police must be wrong. I had never met, seen or heard of Muret in April, 1911.
"I have quarreled with him because he did not understand me. I called to see him about making money, and when I said St. Elizabeth had directed me to make it for the poor he told me I was crazy."
At the suggestion of meeting death in the electric chair Father Schmidt showed unconcern. His air was that of a man who was tired of life and would welcome death.
"If I could convince the authorities that I murdered Alma Keliner, the eight-year-old girl, whose mutilated body was found in a church basement at Louisville, Ky., I would gladly do so," Father Schmidt said. "They can send me to the chair but once, and if I could get that man Wendling, who is serving a life sentence for her murder, out of jail, I would confess I committed that crime also. It would not be true, though, and I could not convince them it was. I was in Louisville when the girl was killed, but I did not kill her."
More arrests of persons implicated in the affairs of the priest and "Dr." Ernest Muret, Schmidt's friend, are expected. Muret's affairs are principally in the hands of the United States Secret Service. His every move since he came to this country from Europe, in 1911, has been traced. The only thing that Inspector Faurot would say yesterday about Muret's career here was that he worked as a dentist's assistant.
"There are several details concerning this part of our investigation which I am unable to make public as yet," Faurot said. "It is still my belief that the 'doctor' knows more about the murderous plans of Schmidt that he has told us. In our opinion, he was more than a counterfeiting accomplice.
"The I O U found in Muret's flat at No. 201 St. Nicholas avenue shows conclusively that he and Schmidt knew each other before December, 1912."
Muret told the police he first met Schmidt at that time. The slip was for a loan of $300 payable in three months.
Denies Crippen Acquaintance.
"Dr." Ernest Muret was asked yesterday if there was any foundation for the reports that he knew Dr. Crippen, who killed his wife in London, and also if the charge that he was identified with "white slave" traffic was true. In reply the dentist sent the following note from his cell:
"I have never known Dr. Crippen. I have never had any connection with "white slavery" in all my life. My record in England can be nothing but an excellent one. I have always been so disgusted with 'White slavery' that two years ago I offered myself to the vigilance association in Chicago. You can easily verify this, I intended to give up practice to become a detective in the vigilance association to suppress 'white slavery.'"
It was admitted by the police last night that "certain developments from the Englewood section of New Jersey are counted upon." Just what these developments are could not be learned. According to a report, however, they concern both Muret and Schmidt in an illegal business, and one in which Schmidt took advantage of the confessional in conducting it.
Detectives yesterday failed to find Helen Green, the young woman who wrote love letters to Schmidt, which were found in the priest's effects. She is believed to be in Chicago. The young woman left her home at No. 201 West 109th street, about a month ago and said she was going to Chicago, but would soon return.
Another woman who was friendly with the priest, and who left her home in the West 84th street flat the day after Schmidt vacated his room, is being sought by the police.
The parts found of Anna Aumuller's body were brought to the morgue in this city from Hoboken yesterday afternoon. Inspector Faurot was undecided yesterday whether he would take Schmidt to the morgue.
The police of the harbor squad continued their search for the missing head, which is believed to be in the bed of the Hudson River, in the vicinity of West 152d street.
Postcard from Woman.
A postcard mailed in London was forwarded yesterday from St. Joseph's parish house to Schmidt, in the Tombs. The card was addressed "Rev. Hans Schmidt, St. Joseph's Rectory, New York." and was a souvenir card showing a London scene. On the face was written "My very best wishes, Katherine O'Malley, Hotel Russell, London, W. C." The card was dated September 12. It was mailed in London before Schmidt's arrest.
Schmidt was refused permission to shave yesterday. At the District Attorney's office it was learned that no steps toward having the priest examined by alienists had been taken.
"We are waiting for permission from Koelble, Schmidt's attorney," Mr. Delehanty said. "If he will state in writing that he is willing for an examination to be made, we will proceed with the arrangements at once."
Koelble said he would give the desired permission to-day. Two doctors already have made superficial examinations of Schmidt, he said, and both declared him unbalanced mentally.
Only by th cleverest forgery could Hans Schmidt have filed a death certificate with the Department of Health, according to Dr. Shirley W. Wynne, acting registrar. To find any such forgeries, if they have been filed, a clerk at the department will be put to work this morning going over the 15,000 death certificates filed since April of the present year.
It is Dr. Wynne's intention to have all certificates bearing the name of Dr. John J. Slevin, of No. 47 East 126th street, from whom the priest stole the books, carefully scrutinized.
"Dr. Slevin's reputation is of the best, so far as this department knows," said Dr. Wynne, "but we will have to go over his certificates wince April to see if Schmidt forged any under his name. If he did we will be able to know immediately through Dr. Slevin himself."
The photograph of the death certificate found in Schmidt's effects, which was made out in April, it was explained by the acting registrar, was taken before it was filed in the department.
"Doctor" Muret's charges against the police that he was mistreated by them on the night of his arrest were denied by Inspector Faurot and Detectives Cassassa and McKenna yesterday. In substantiation of their denials Dr. Lchenstein, one of the Tombs physicians, said;
"If Muret was mistreated by the police to the extent of his claims, bruises would appear on his body. I examined him carefully and there are no bruises on his body."
Priest Planned A "House of Death", The Tribune, 20 September 1913, page 1, column 1 and page 3, column 6.