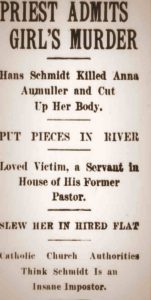 Priest Admits Girl's Murder
Hans Schmidt Killed Anna Aumuller and Cut Up Her Body.
Put Pieces in River
Loved Victim, a Servant in House of His Former Pastor.
Slew Her in Hired Flat
Catholic Church Authorities Schmidt Is an Insane Impostor
Hans Schmidt, an assistant priest at St. Joseph's Catholic Church at 495 West 125th street, was arrested early yesterday and confessed that he had murdered and them dismembered the body of a girl, parts of those body have been found in the North River during the past few days.
The murdered girl, whose name was Anna Aumuller, was a servant in the pastoral residence of the Rev. Father Braun, rector of St. Boniface's Church on the southeast corner of Forty-seventh street and Second avenue, where Schmidt from December, 1910, until May, 1912, was a curate.
Schmidt's only explanation of the cause of the murder yesterday was that he "loved Anna."
Catholic Church authorities of the York [sic] York diocese, headed by Mgrs. Mooney and Lavelle, who was vicars-general of the diocese, held a conference yesterday after receiving reports of an interview with Schmidt in the Tombs by the Rev. Father Evers to learn whether or not Schmidt really is a priest of the Catholic Church.
Schmidt made statements to Father Evers about being "ordained a priest by St. Elizabeth of Hungary, who told me to kill Anna as a sacrifice of blood," and made many more wild statements that incline to the belief that he is insane.
Think Him Impostor.
There are reasons to believe, according to the church authorities, that Schmidt is an impostor. For some years, however, he has performed the duties of a curate at two churches in New York, at Trenton and at St. Louis, and according to his own story he was a priest in Germany before coming to America from Bavaria in 1907.
Schmidt, according to Assistant District Attorney Deacon Murphy and Police Inspector Faurot, confessed that he entered a four room flat on the third floor of the apartment house which he had rented for the Aumuller girl at 68 Bradhurst avenue, two doors north of West 145th street and a short block east of Eighth avenue, at midnight on September 2 and cut her throat while she slept.
He tasted the blood then, he says. When he was sure the girl was dead he dragged her body to the bathroom of the apartment and there dismembered it.
Then he wrapped the parts of the body up in either five or six pieces, he doesn't remember which, and when daylight came he took the packages about Fort Lee ferryboats during several trips and dropped the packages overboard.
These trips, so he told the police in his confession, took up the better part of the day following the murder and the next. Toward dusk of the second day, while trying to wash away signs of his crime from the flat, he came across a part of the mattress which was so soaked with blood that he could not obliterate the stains.
Burned Stained Cloth.
Whereupon Schmidt told the police and others yesterday he took the stained cloth of the mattress at nightfall to a vacant lot in 144th street between Seventh and Eighth avenues.
In a "gospel tent" on the lot a religious revival was going on when Schmidt went there with a bundle under his arm. All about the lot are stones like those which Schmidt used to weight down the five or six parcels containing the head, upper torso, lower torso, legs and arms of the girl he had murdered.
He told the police during an early morning visit to the lot yesterday that he had got the stones for weighting the body at this place.
Some boys were playing about the lot near the tent, Schmidt asked them to help him gather firewood. The boys, glad to have a bonfire started, helped him. And they stood around while he burned the bloody bedclothes.
Steps taken by Inspector Faurot and his detectives resulted in the arrest of Schmidt when the inspector on Saturday afternoon just before dusk decided that inasmuch as Francis D. Day, who had "identified" the few parts of the dismembered body of the girl found in the North River as his sister only to admit later that he was mistaken, it was time to take drastic measures to run down the very few hopeful clues still remaining in New York.
Fine Detective Work.
A bit of detective work that Coroner Feinberg yesterday spoke of as "something that puts the best work Scotland Yard or Paris to shame" then was brought about.
Inspector Faurot, accompanied by Detectives J. J. O'Neill, John O'Connell, Frank Casassa, Richard McKenna and Thomas Horan, decided to look up an apartment house at 68 Bradhurst avenue.
At this address had been delivered two of twelve pillow cases of a particular pattern corresponding to the pillow case materials about the severed parts of the murdered girl found in the river. Ten of the pillow cases already had been accounted for.
When George Sachs of 2768 Eighth avenue had told the police four days ago that he had sold two of the peculiarly patterned pillow cases to a tenant at the Bradhurst avenue address Detective O'Neill had been assigned to the "plant."
During the four days preceding the arrest of yesterday morning, O'Neill had watched the flat where the pillow cases had been delivered, but no one had come near it.
There was one flat in the apartment house which was of interest to the other tenants. It has been rented, the neighbors knew, but so far as any one had seen no furniture had been delivered there except a bed and bed clothes.
On two occasions, the tenants said yesterday, they had seen a woman enter the flat, whom they identified yesterday upon being shown photographs of Anna Aumuller.
At times too they had seen Schmidt enter the flat, always dresses in "citizen's clothes," as the tenants put it. Usually he carried a bundle. They could hear voices in the apartment at times, always about midnight or later.
The tenants had wondered, they said yesterday, why it was that the dumb-waiter leading to the apartment never had stopped at the third floor rear with meat or vegetables for the mysterious occupants of the flat.
No Answer to Bell.
Inspector Faurot late on Saturday night decided that the mysterious flat should be investigated. The inspector rang the doorbell repeatedly. There was no answer. On an order from the inspector Detective Frank Cassassa went around to the rear of the building and climbed the fire escape that ran past a window of the apartment.
The window was locked. Cassassa said yesterday that he finally got it open with the aid of his jackknife and entered the kitchen. Only a short survey of the kitchen and bathroom was enough to cause Cassassa to press the button that admitted Inspector Faurot and his detectives.
These are the things the inspector and his men found in the apartment. In the kitchen were six eggs, a loaf of bread, part of a roll, a coffee strainer, two empty milk bottles, four empty ginger ale bottles and some sugar, a cook book printed in German, a bottle of ink, a black skirt, black waist and blue calico skirt and some underwear in a drawer.
On the kitchen sink shelf was a long butcher's knife stained with blood. Near by was a carpenter's saw, which Schmidt later said he had bought in Centre street between Police Headquarters and the Criminal Courts Building, where he also had bought the knife, and with these two implements he had killed Anna Aumuller and had dismembered her.
There were three photographs in the apartment, one a bust picture of Anna Aumuller and the other a full length picture of her. The third was a picture of a woman whose identity the police would not disclose.
Also the inspector and detectives came upon a man's boat of mixed gray with the name "A. Van Dyke," a name the police say Schmidt has used at times, in the inside pocket.
There were bits of underwear like that used to wrap the torso of the body found in the river. Also there were a spool containing a few lengths of milliner's wire and some heavy cord, wire and cord the same as that used to tie up two of the parcels containing parts of the body found in the river.
More Clues Found.
There was a piece of a New York morning paper dated August 31 and the police took this because one of the packages dragged out of the water was wrapped partly in a piece of the same paper of that date.
All about were evidences that some one had tried to wash away much blood, but as hurriedly had the job been done that the corners of the room, especially the bathroom, had been overlooked.
There was a revolver and a few cartridges, two trunks, a receipted bill showing that "H. Schmidt" had bought from George Sachs, 2762 Eighth avenue, a white enamel bed, a mattress and two pillows, for all of which $12.63 had been paid.
But of chief importance to the police was a letter. It was addressed to Anna Aumuller. What the letter contained the police would not say yesterday. It was admitted, however, that after reading it Inspector Faurot and his detectives climbed into automobiles to look up Joseph Igler at 423 East Seventieth street and also made note of five other addresses in the letter.
Igler, the letter said, is a cousin of Anna Aumuller. He is a boatman employed at Central Park. He didn't "give a damn about Anna Aumuller," Igler told Inspector Faurot. Anna had come to America two years ago, Igler said. She had some here on a Hamburg-American boat in the second cabin.
"I got her a job at St. Boniface's Church," said Igler, "and that's the last I heard from her."
Which was quite sufficient for the police. The inspector and his men, taking Igler with them, climbed into their cars – it was now about 8:30 o'clock Saturday night – to go to St. Boniface's and ask about Anna and to try to find out also who the "Schmidt," usually spoken of as "Schmidtty" in the letter found in the flat by the police, was.
Girl Was a Servant.
The Rev. Father John S. Braun, pastor of St. Boniface's Church, came into the parlor. Father Braun upon being shown the photographs of Anna Aumuller found in her flat said that he recognized the girl as a servant who once had worked for him.
"Do you know anybody named Hans Schmidt, father?" asked the inspector.
Father Braun told briefly all that he knew of Schmidt and added some details about Anna Aumuller.
Schmidt came to Father Braun's, the rector of St. Boniface's said, in December 1910, from Trenton. A priest whom Father Braun did not mention by name had recommended Schmidt to him when Father Braun was in need of a curate. Anna Aumuller was a servant in the house at the time.
"My sister, who is my housekeeper," Father Braun told reporters later in the day, "took a little trip with me to Europe in 1911, and while we were away Anna had trouble with the servant who temporarily was taking taking my sister's place. Anna quit. After we came back from Europe she came to ask for her place again and she was reengaged.
"If any intimacy between Anna and Schmidt began while there were both here it must have been while I was in Europe. Certainly I never saw anything wrong.
"Schmidt I might call an "average priest." Although he performed his duties here acceptably, there was always something about him that seemed mysterious to me. Usually his face bore an expression of meek piety, but at times he suddenly would glare like a lion.
A Jekyll and Hyde.
"I was so interested in these changes of expression that I tried to puzzle out what caused them, but couldn't. He was the nearest to Stevenson's Jekyll and Hyde so far as expression is concerned that I ever saw. Although we got on fairly well enough together I can't say that we ever quite harmonized."
Father Braun said that in May, 1912, Schmidt told him that he had decided to go back to Germany. Schmidt was busy with his packing when word came to Father Braun that an assistant priest was needed temporarily up at St. Joseph's church in West 125th street.
Schmidt went to St. Joseph's, supposedly to stay only a short while, but liked the place so much that he remained there until arrested for the murder of Anna Aumuller yesterday morning.
As soon as Inspector Faurot had got the address of St. Joseph's parish house he and the detectives motored there. Shortly before midnight a ring at the bell brought Father Hunten, a curate, to the door. There was a priest named Hans Schmidt in the house, said Father Hunten.
Inspector Faurot said yesterday that Schmidt, sleepy eyed, came down to the reception room of the parish house wearing "clerical garb, including a stole." The inspector, for reasons of his own, promptly introduced himself as head of the detective bureau and then introduced the men with him, being careful to say "Detective" before each name.
Then the inspector showed a picture of Anna Aumuller to Schmidt and asked whether or not Schmidt knew her. Schmidt said he didn't. For half an hour the inspector and detectives quizzed Schmidt with little success. Suddenly he swayed.
Admits He Killed Her.
Detective Cassassa jumped forward quickly and supported the man or Schmidt would have fallen.
"Yes, I killed her," the inspector says Schmidt told him when he had recovered from his weakness. For a long time the police tried to get from Schmidt why he had done the murder. He would only answer, "Because I loved her."
Then he told his story.
He was born in Bavaria, he began, in 1881, where his father and mother still live and when 12 years old had gone to college there until 18 years old. Next he had entered a seminary and was ordained "by the Bishop of Mains" (he said later that he had been ordained, as has been said, "by St. Elizabeth of Hungary").
To the police, he said that he had entered a seminary at Mainz, when he was 18 years old. He said he was ordained a priest on September 23, 1904. He told father Evers later in the Tombs that he was ordained on Christmas Day, 1906.
"The reason I killed Anna," he told Father Evers also, "was that St. Elizabeth, who ordained me, told me to give a sacrifice in blood."
"Why did you throw the parts of the body in the river?" Father Evers asked him.
"Because every sacrifice must be consummated in blood and water," Schmidt answered simply.
First he was curate at a church at Darmstadt, Germany, St. Elizabeth's he said it was. He was at St. Elizabeth's six months when he got sick and went home for a year. He said he came to the United States in 1907 and was a curate in a church at Louisville for a while and then came to Trenton. From Trenton he came to St. Boniface's in December, 1910.
Inspector Faurot now took Schmidt up to his bedroom in the rectory of St. Joseph's. While Schmidt, upon orders from the inspector, was donning a dark sack suit that hung in a closet, the detectives looked over Schmidt's effects and found about 500 cards, cheaply printed, that interested the detectives especially, because it has been said so often that the dismemberment of the murdered girl was done by some one who knew something about anatomy.
The cards read: "Dr. Emil Moliere, Formally Assistant Surgeon, Municipal Women's Hospital, Paris, France." Then at the bottom of the cards, "Representative of the Chemical Hygenic Manufacturing Company of Demoralle, France."
When the man was dressed for the street the inspector took him to the Bradhurst avenue flat. Here he told, as he told subsequently at Headquarters and at the Tombs, how he had entered the flat, found Anna sleeping and had killed her by cutting her throat. He had dragged the body to the bathroom, he said, and had cut it up so that it made five or six bundles.
The work of dismembering the body and wrapping the parts had taken most of the night, Schmidt said. Early the next morning he went down stairs carrying the head wrapped in what Schmidt called "brown paper" (the parts of the body found were wrapped in a tar paper of a brownish color) and boarded an Eighth avenue car.
Crossed River in Ferryboat.
At 125th street he changed to a cross-town car running west. The he boarded a ferryboat of the Fort Lee Line and from a secluded position aft had waited until the boat was in midstream, where he threw the package containing the head overboard.
He went back to the Bradhurst avenue flat again and again to repeat his trips to dispose of the packages. Night came on and he went back to the rectory with either two or three of the packages still in the flat.
The next day he went to the flat early and throughout the day took away the last of the packages and dropped them into the river from the Fort Lee ferryboat. Schmidt says he dropped all of the parcels overboard in broad daylight. Each was weighted with a stone.
After he had disposed of the five or six bundles he devoted the late afternoon hours to cleaning up the flat. Then he took the part of the bedding that was too bloodstained to wash to the vacant lot in West 144th street.
From that evening, which was September 4, to now he has been performing his duties as priest at St. Joseph's Church, baptizing a child as late as Saturday.
When Schmidt had gone over parts of his story again in the flat where he had murdered the girl, he was taken about 3 o'clock yesterday morning, first to the lot in West 144th street, where he showed the inspector and detectives the charred bits of bed clothes he had burned there, and then to the West 152d street station house.
Janitor Picks Him Out.
The janitor of the Bradhurst apartment house was sent for. The janitor, Carlton Brooker, went into the station house as Inspector Faurot was lining up Schmidt, dressed in a dark blue sack suit, straw hat, a narrow black four-in-hand cravat and black shoes, with four prisoners just taken from cells for the purpose.
Brooker immediately picked out Schmidt as the man who had rented the flat where Anna Aumuller was killed. Schmidt had cam to Brooker, the janitor said, on August 25 and had paid $5 on the rent of the flat.
Two days later, according to Brooker, Schmidt had come back and had got the keys to the apartment, paid the balance of the first month's rent and then had a special lock placed on the door, paying $2 additional for the lock, and said that he wanted a lock which could not be opened even by the janitor's pass key.
That afternoon the bed and bedding were moved into the flat. Schmidt had told the janitor in the meantime that his "wife will be here soon." Anne Aumuller came there that night, August 27. It was not until August 31, however, that Anna announced to Father Braun that she was about to leave "to be married."
Schmidt said when first arrested that he was married to Anna Aumuller, but later said he wasn't. In his room at St. Joseph's rectory was a marriage license taken out in the names of Hans Schmidt and Anna Aumuller, dated February 26, 1913. When first admitting that he and the girl had been married he said in answer to a question as to where and by whom he and the girl had been wedded, "I'm a priest and so I married us myself."
The girl would have become a mother in about four months.
From the West 152d street station house Schmidt was taken to Police Headquarters. Assistant District Attorney Murphy and Coroner Feinberg were summoned by Inspector Faurot. To both the Coroner and to Mr. Murphy Schmidt repeated substantially the same story he had told Inspector Faurot. Neither Coroner Feinberg nor Mr. Whitman's representative would go into details of their talk with the prisoner, although both did say that he had confessed to the murder.
Schmidt was taken to the Tombs during the forenoon, where he said he was both hungry and sleepy. He ate a hearty meal and then promptly went into a sleep that was interrupted only by the visit of a Catholic police chaplain.
Called Himself Impostor.
It was learned later that Schmidt during a string of statements about his connection with the Church which were at variance with statements he had made earlier said that he was "an impostor and once was arrested in Munich as an impostor."
The only motive advanced by the police as to cause of the crime is that Schmidt, fearing that the birth of a child to the girl would cause disclosure of his relations with the woman, which of course would bring punishment from his superiors, decided to kill her.
Before going to the Tombs Schmidt readily showed Inspector Faurot the shop in Centre street where he had bought the knife and saw used in the murder and dismemberment.
The portions of the body taken from the river will be brought over from the New Jersey side to-day and an inquest will be held by Coroner Feinberg here.
The Coroner, after hearing Schmidt's story yesterday, held a hearing in Inspector Faurot's office at Headquarters, after which Schmidt was held on a charge of homicide.
Finger prints taken by Inspector Faurot's men corresponded with the bloody finger prints on the saw found in the Bradhurst avenue flat and with the many finger prints that mark the packages containing Anna Aumuller's body, taken from the river.
Schmidt admitted that among other activities he had sold patent medicine preparations, the nature of which he did not explain. The name "Dr. Emil Moliere" on the cards found in his room took on added significance when Schmidt told the police that Gertrude Moliere was his mother's maiden name.
The pictures of Anna Aumuller found by the police show a rather prepossessing girl, although some persons who knew her said yesterday that the photographs "flattered" her. She was about 24 years old.
Schmidt, whose age the police recorded as 33 years, is sallow faced with glassy eyes, whose general appearance and actions yesterday caused many to think that he is addicted to drugs.
Sent Back from Trenton.
Bishop McFaul Though Schmidt Mentally Irresponsible.
Trenton, Sept. 14. – Bishop James A. McFaul of the Trenton diocese said to-day that he believes Schmidt, the alleged murderer, is not mentally responsible. The Bishop formed this opinion, he said, when Schmidt was serving temporarily as pastor of St. Francis's Church in this city, and it was because of that fact that Schmidt's services here were brought to an early close.
Schmidt came to Trenton in 1910, having been "borrowed" from New York, as Bishop McFaul expressed it to-night, to fill temporarily the pastorate of the Rev. Dr. Joseph Rathner, who went abroad that year for his health. Schmidt served for seven months as pastor of St. Francis's Church and then was released to return to New York.
So far as could be learned to-night there was no actual breach between Bishop McFaul and Schmidt, although the Bishop admitted that his impression of Schmidt was distinctly an unfavorable one.
Bishop McFaul said to-night that he knew little of the record or antecedents of Schmidt other than that he had been sent here from New York. It was understood that Schmidt was a graduate of the University of Munich, coming to this country from Germany.
While on his vacation last July Schmidt made a brief visit to Trenton. He spent two days at the priest's house of St. Francis's Church. There was nothing about the condition of Schmidt at that time to excite comment.
Studied in Louisville.
Hans Schmidt Went There in 1909 From Germany.
Louisville, Ky., Sept. 14. – Though Hans Schmidt studied English in Louisville for nearly a year, those who were associated with him closely were able to-night to tell little of his work while here. Other than that he was a close student and exceedingly quiet, nothing could be added.
At the end of nine months study Father Westerman said Schmidt spoke English fluently. He then left for Trenton, N.J., and since then has not returned to Louisville. Schmidt, according to Father George W. Schumann, pastor of St. John's Roman Catholic Church, came from Bavaria. His father was chief of detectives of the Bavarian railroad.
Priest Admits Girl's Murder, The Sun, 15 September 1913, page 1, column 7, and page 2, column 1.