Find Other Flats of Priest Slayer
Police Go to Eighth Avenue Place and Take Away Baby Clothes Made by Anna Aumuller.
Muret's Life Uncovered.
Evidence of Criminal Career in Chicago and London Brought to Light in Raid on the Office of Schmidt's Close Friend.
More proof of the cunning of the Rev. Hans Schmidt, the self-confessed slayer of Anna Aumuller, was found yesterday when the police went to a flat at No 2562 Eighth avenue, which the priest rented three days after he killed the woman.
The priest rented the apartment on the night of September 5, a few hours after the upper portion of the torso of Miss Aumuller was found in the Hudson River, near Shadyside.
Father Schmidt made only two visits to the flat. The first was when he paid a deposit of $5 to bind the lease and the second on the following day, when he left the apartment on Bradhurst avenue, where he killed the girl, with two suitcases filled with telltale evidence.
In one of the suitcases was found baby clothes that Miss Aumuller made in anticipation of becoming a mother. In the other was a photograph of a man in civilian clothes, wearing a beard, which Inspector Faurot said was a photograph of Father Schmidt.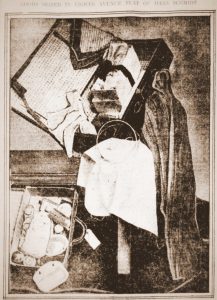 "The finding of the baby clothes – only one garment, a tiny chemise, was completed – proves that the Aumuller girl firmly believed that Schmidt would shortly proclaim her to the world as his wife, and that she could be proud of her approaching motherhood," said Inspector Faurot last night. "Schmidt evidently hired the Eighth avenue flat to aid him in concealing the evidence of his crime. He intended to transfer all the incriminating articles from the Bradhurst avenue apartment to the Eighth avenue place and there dispose of them."
London Police After Muret.
Only second in importance to the finding of the Eighth avenue flat was the result of a raid made on "Dr." Ernest Muret's fake dental office, at No. 301 St. Nicholas avenue yesterday afternoon. Here the police found scores of letters which showed that the priest's confidant and friend used several aliases, and was wanted by the London police for some crime committed in England.
Many of the letters addressed to Muret were from a woman, Vera Harris, of London, who signed one of the letters "Your loving wife." In one of the letters signed by the self-styled wife of Muret she said her address was No. 13 1st street, Walton street, Brompton, Chelsea, London, S. W.
The letters showed that Muret, under the alias of "Dr. A. Held," practiced medicine in Chicago's Tenderloin in 1909; as "Dr. A. Ernest," he taught languages in London in 1910; under the name of "Dr. Ernest Muret" he practised medicine in London in 1911, and earlier in the same year he was known as "Dr. Ernst" in a different section of London.
The letters further showed that Muret was in Hamburg, Germany, two months hefore he went to Chicago, in May, 1909, and a membership card for the Young Men's Christian Association in the Garman city made out to "Albert Helbing" in 1904 was believed by Inspector Faurot to have been issued to Muret and that "Helbling" is one of the aliases he used.
Late last night the police made a second raid on Muret's apartment, in St. Nicholas avenue. They found a false mustache and beard and two letters which, they said, showed that he was trying, with the aid of prominent persons, to establish an alibi, and that he anticipated his arrest.
Mail at Another Address.
They also found a letter addressed to the priest, under his alias of "A. Van Dyke," at No. 124 West 84th street. The police believe that this was used by the priest as a mail address.
At No. 124 West 84th street detectives found a woman in a flat who said that she was merely acting as housekeeper and that the owner of the place was away, but would return to-day. She admitted that mail was received there for "A. Van Dyke."
The two letters that led the police to believe that Muret was trying to establish an alibi bore the dates of September 8 and 14. The latter was the date of Muret's arrest.
Cards were found bearing the name of Adolph Somers, which the police believe was another alias of the the priest.
What was thought to be a copy of a letter to a priest in South Dakota was found in the apartment. This was written by Father Schmidt, and in it the slayer of Anna Aumuller asked this priest if he could recommend him to his bishop that he might get a berth in one of the churches there.
"The city," ran one line, "offers a great number of temptations, but I suppose I must put up with them."
The police found evidence in Schmidt's room in the rectory of St. Joseph's Roman Catholic Church in Harlem that Schmidt robbed an aged priest who visited in the rectory of St. Boniface's Church, of $400.
The police and Secret Service agents were disappointed, however, when they opened Muret's safe in his home. It contained only a receipt for a safety deposit vault in the Mount Morris Bank, some ecclesiastical oil lamps, and correspondence relating to a real estate transaction. The safe deposit vault contained only a few personal letters.
The District Attorney's office is taking no stock in the pretenses of insanity that Schmidt is making. Last night District Attorney Whitman said he would present sufficient evidence to the October grand jury to result in the finding of an indictment for the murder in the first degree, and that he expected to put the priest on trial before Judge Foster in Part V of General Sessions next month.
Mr. Whitman assigned James A. Delehanty, one of his assistants, to the case, and the first thing Mr. Delehanty did, working with Assistant District Attorney Deacon Murphy and Coroner Feinberg, was to put Schmidt's "dentist" friend through a mild third degree in an effort to learn if he knew anything about the murder and dismemberment of the Aumuller girl.
At the conclusion of the examination Mr. Delehanty said he was not prepared to say that Muret had cleared himself of any knowledge of the murder. Muret will be brought to the District Attorney's office and examined further later in the week. By that time the District Attorney will have investigated some of his statements.
Muret stuck to his story that he met Schmidt for the first time about a year ago. Schmidt came to him to have his teeth treated, he said. Schmidt frequently came to his home to see him and sometimes on these occasions changed his clerical garb for civilian clothes.
Muret said that August 16 he and Schmidt quarreled and he saw nothing of the priest for more that two weeks. Pressed for the reason for the quarrel by Mr. Murphy, Muret said:
"He wanted me to do something wrong – something illegal – and I would not do it."
Muret said he did not see Schmidt after August 16 until September 5 or 6. The meeting at that time, he said, was of Schmidt's seeking. Schmidt had a cut on his hand. Muret asked him how he cut it and Schmidt replied, he said, that he did it catching a glass which one of the other priests threw to him in play. As he caught the glass, Schmidt said, it broke and the fragments cut his hand.
The District Attorney is prepared to fight any move to declare Schmidt insane. He already has obtained the consent of Schmidt's counsel to have alienists examine Schmidt in his cell.
Captain John Heary, head of the local office of the United States Secret Service, also believes Schmidt is sane. This conclusion, which is shared by all save a very few – one of them the priest's counsel and the other Father Evers, the Roman Catholic chaplain of the Tombs – was reached after nearly an hour's conversation with the priest in his cell yesterday afternoon.
"I found Father Schmidt self-possessed, rational and exceedingly shrewd." said Captain Henry last night. "He did not indulge in any of the nonsense credited to him when I asked him where he obtained the copper plate to make the counterfeit $10 gold certificates found in his room in the rectory of St. Joseph's Roman Catholic Church, in Harlem. He did not tell me that God gave it to him. He told me that he made the plate after working on it many months, and that he worked on it even after the murder.
"I asked him to fix the last day he worked on the plate and he said it was Saturday. This was the day before he was arrested for the murder. He did not once mention the murder and I didn't suggest it. We talked only about his career as a counterfeiter.
"Father Schmidt told me he first began counterfeiting eight years ago in Germany. He said that he had only experimented then, and didn't try to make any false money for circulation. He admitted that he intended to 'shove' the money out from the plate we found in his room.
"I asked him why he wanted to do this. He replied that he did not intend to profit personally by the counterfeits. He said he wanted to distribute them among the poor. He added that he did not think that he would be robbing any one or committing any crime in doing so.
"He was very careful in his choice of words, and was extremely anxious that nothing he said would be harmful to his associate, Ernest Muret. He said he did some of the work on the plate at Muret's home in St. Nicholas avenue, but insisted that Muret knew nothing about it. Then, a moment later, he said that Muret often urged him not to engage in counterfeiting.
"He was so anxious to protect Muret that I was convinced that he lied when he talked in regard to the fake dentist. It is not possible that Muret did not know and participate in all that he was doing in the counterfeiting line.
"He admitted that he made more than one hundred negatives of $1, $2 and $5 silver certificates, and also of $5 and $10 gold certificates. We have some of the negatives, but in nearly all of them the bill faces were wiped off the plates with chemicals."
William J. Flynn, chief of the United States Secret Service, who is in active command here of the government's case against Schmidt and Muret, said that he forwarded photographs of Muret and Schmidt to some of his agents in Massachusetts and Connecticut.
"These agents know several people who were victimized by counterfeiters who passed $10 and $20 gold certificates in that territory recently, and within a day we will be able to say if Schmidt and Muret were the men who passed bad money in New England."
Chief Flynn said the counterfeiting plant seized in the West 134th street flat rented by Muret and Schmidt was complete in every detail. He said that there was enough evidence to convict Muret on two counts, which would carry a maximum of thirty years.
"We have no fear that Muret will escape," said Chief Flynn. "The effort to burn the counterfeit notes looks as is Muret, after Schmidt's arrest, started a clean-up and was frightened off."
Father Schmidt in answer to a note sent to his cell yesterday, said Anna Aumuller knew nothing of his work as a counterfeiter. When the police found the Eighth avenue flat, another note was sent, in which the priest was asked if he had other flats or apartments besides the three already found by the police, and if Muret rented the Eighth avenue flat with him.
His reply, written in a bold, free hand, was:
"I alone rented that flat on Eighth avenue. Muret was not associated with me in that. There are no other flats of mine at present. I used to have a furnished room with Anna, but this was long ago."
In regard to the charge that he sold quack medicines to some members of St. Joseph's parish in Harlem, Father Schmidt sent this note:
"It has been said that I have taken money from the poor. This is not true. The collection of envelopes found in my room were given to me by Father Braun to make a list of all the donors. If you will ask the poor on the East side, near 47th street, or around 125th street, you will hear different stories."
Find Other Flats of Priest Slayer, New York Tribune, 18 September 1913, page 1, column 3, and page 6, column 4.